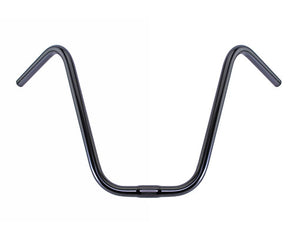 Unleash the Classic Appeal: V APE LOWRIDER HANDLEBAR 13 25.4MM BLACK
Clamp Size: 1 Inch (25.4mm) | Width: 25 1/4 Inch | Rise: 13 Inch | Material: Steel | Model: Smooth | Color: Black | Brand: Lowrider
When it comes to customizing your bike and adding a touch of timeless style, the V APE LOWRIDER HANDLEBAR 13 25.4MM BLACK is a perfect choice. With its classic design, durable steel construction, and sleek black finish, this handlebar exudes elegance and sophistication that will turn heads wherever you ride. In this article, we'll delve into the features and reasons why this handlebar is a fantastic addition to your bike, and why purchasing from Live4bikes is the best decision you can make.
Embrace the Classic V APE Design: The V APE handlebar boasts a unique design that resembles the letter "V," which sets it apart from conventional handlebars. This eye-catching feature not only adds an artistic touch to your bike but also offers improved hand placement options, providing a comfortable and ergonomic grip during rides. The smooth surface of the handlebar enhances the overall aesthetics, making it an excellent choice for both vintage and modern bikes.
Sturdy Steel Construction: Built with high-quality steel material, the V APE LOWRIDER HANDLEBAR ensures durability and longevity. Steel is known for its robustness and ability to withstand various weather conditions and riding terrains. Whether you're cruising through city streets or exploring rugged trails, this handlebar will stand the test of time and maintain its structural integrity, giving you peace of mind while you ride.
Perfect Measurements for Optimal Control: With a width of 25 1/4 inches and a rise of 13 inches, this handlebar provides ample space for a comfortable grip and better control over your bike. The 1-inch (25.4mm) clamp size is a standard size that fits most bikes, allowing for easy installation. The precise measurements ensure that your bike's handling is enhanced, giving you a more enjoyable riding experience.
Elegant Black Finish: The sleek black color of the V APE LOWRIDER HANDLEBAR adds a touch of sophistication to your bike. The black finish not only complements various bike styles but also adds an element of mystery and charm. Whether you have a vintage cruiser or a modern urban bike, this handlebar will seamlessly blend in and elevate the overall appearance of your ride.
Why Choose Live4bikes for Your Purchase: When investing in bike accessories, it's essential to choose a reliable and trustworthy seller. Live4bikes has earned a stellar reputation as a top-notch provider of high-quality bike parts and accessories. Here's why you should consider purchasing the V APE LOWRIDER HANDLEBAR from Live4bikes:
Quality Assurance: Live4bikes is committed to offering top-of-the-line products, and the V APE handlebar is no exception. Each product is meticulously tested for quality and durability, ensuring you receive only the best.

Wide Range of Products: Live4bikes boasts an extensive collection of bike parts and accessories, catering to various styles and preferences. Whether you're a casual rider or a seasoned cyclist, you're sure to find what you need.

Exceptional Customer Service: The team at Live4bikes is dedicated to providing excellent customer service. They are ready to assist you with any queries, ensuring a smooth and pleasant purchasing experience.

Fast and Secure Shipping: Your order will be promptly processed and securely packaged, with fast shipping options available for your convenience.
In Conclusion: The V APE LOWRIDER HANDLEBAR 13 25.4MM BLACK is a stylish and reliable choice for bike enthusiasts seeking to add a touch of classic charm to their rides. With its durable steel construction, comfortable dimensions, and elegant black finish, this handlebar is bound to elevate your biking experience. When making your purchase, Live4bikes stands as the ideal destination, offering quality products and exceptional customer service. Upgrade your bike today with the V APE LOWRIDER HANDLEBAR, and enjoy the perfect blend of style and functionality on your two-wheeled adventures.