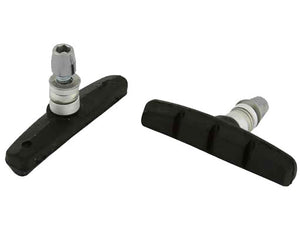 FnR V-Brake 70mm Brake Pads: Unlock Superior Braking Performance and Discover the Benefits of Purchasing from Live4Bikes
When it comes to cycling, reliable and efficient braking is essential for rider safety and control. One exceptional option to consider is the FnR V-Brake 70mm brake pads. These brake pads are designed to deliver reliable stopping power and durability, providing cyclists with the confidence to ride with peace of mind. In this article, we will explore the key features and benefits of FnR V-Brake 70mm brake pads and explain why Live4Bikes is the ideal online retailer to purchase them from.
Unmatched Braking Performance:
The FnR V-Brake 70mm brake pads are engineered to provide exceptional braking performance, ensuring a safe and enjoyable riding experience. Let's delve into the notable features that make them a top choice for cyclists:
Reliable Stopping Power: The FnR V-Brake 70mm brake pads utilize a high-quality compound that offers reliable stopping power in various weather conditions and terrains. This ensures that you can confidently bring your bike to a halt, even in challenging situations.

Efficient Design: These brake pads feature an optimized shape and design that maximizes the contact area with the rim, enhancing braking efficiency. With increased pad-to-rim contact, you can expect consistent and responsive braking performance.

Excellent Durability: The FnR V-Brake 70mm brake pads are crafted from durable materials that are built to withstand the demands of frequent use. This longevity ensures that you can enjoy reliable braking performance for an extended period, reducing the need for frequent replacements.
Why Choose Live4Bikes:
Live4Bikes is a reputable online retailer known for its commitment to providing cyclists with high-quality products and exceptional customer service. Here's why you should consider purchasing your FnR V-Brake 70mm brake pads from Live4Bikes:
Genuine Products: Live4Bikes sources its products directly from trusted manufacturers, guaranteeing that you will receive genuine FnR V-Brake 70mm brake pads that meet the highest quality standards. This ensures optimal performance and reliability.

Wide Selection of Cycling Products: Live4Bikes offers an extensive range of cycling components and accessories. Whether you're looking for brake pads, drivetrain parts, or other bike-related items, Live4Bikes has a diverse selection to cater to your needs.

Competitive Prices: Live4Bikes strives to offer its customers competitive prices, providing excellent value for your money. With regular promotions and discounts, you can save on your FnR V-Brake 70mm brake pad purchase without compromising quality.

Trustworthy Customer Service: Live4Bikes prides itself on its reliable and friendly customer service. Their knowledgeable team is readily available to assist you with any inquiries or concerns, ensuring a smooth purchasing experience.
Conclusion:
FnR V-Brake 70mm brake pads are a top choice for cyclists seeking reliable braking performance and durability. When considering your purchase, Live4Bikes emerges as the ideal destination for acquiring these high-quality brake pads. With genuine products, a wide selection, competitive prices, and trustworthy customer service, Live4Bikes ensures a seamless and satisfying shopping experience. Invest in FnR V-Brake 70mm brake pads from Live4Bikes, and elevate your cycling adventures with enhanced control and confidence.