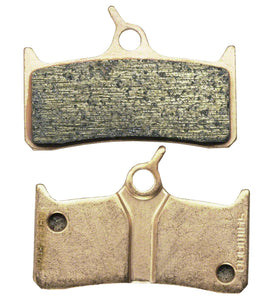 Title: Shimano Deore XT BR-M755 Disc Brake Pads: The Perfect Choice for Superior Performance and Why You Should Purchase from Live4Bikes
Introduction:
When it comes to cycling, having reliable and efficient braking systems is crucial for both safety and performance. Among the various options available, Shimano Deore XT BR-M755 disc brake pads stand out as a top choice for riders seeking exceptional stopping power and durability. In this article, we will explore the key features and benefits of these brake pads and why Live4Bikes is the ideal destination for your purchase.
Unparalleled Performance:
Shimano Deore XT BR-M755 disc brake pads are renowned for their outstanding performance in all types of cycling disciplines. Whether you're an avid mountain biker, a dedicated road cyclist, or simply enjoy leisurely rides, these brake pads deliver consistent and powerful braking power in a wide range of conditions.
Enhanced Stopping Power: The Shimano Deore XT BR-M755 brake pads feature an advanced compound that provides superior stopping power, allowing you to confidently control your speed and navigate challenging terrain with ease.

Excellent Heat Dissipation: The innovative design of these brake pads incorporates efficient heat dissipation technology, which helps prevent brake fade during prolonged downhill descents or intense riding sessions. This ensures consistent performance, even under demanding circumstances.

Longevity and Durability: The Shimano Deore XT BR-M755 brake pads are engineered to withstand the rigors of frequent use. Their robust construction and high-quality materials ensure extended lifespan, reducing the need for frequent replacements and saving you money in the long run.
Why Choose Live4Bikes:
When it comes to purchasing cycling components and accessories, Live4Bikes stands out as a reputable and reliable online retailer. Here's why you should consider making your Shimano Deore XT BR-M755 brake pad purchase from Live4Bikes:
Genuine Products: Live4Bikes sources its products directly from trusted manufacturers and distributors. By purchasing from Live4Bikes, you can be assured that you are receiving genuine Shimano Deore XT BR-M755 disc brake pads that meet the highest quality standards.

Extensive Selection: Live4Bikes offers an extensive range of cycling products, catering to the needs of both casual riders and professionals. Whether you're looking for brake pads, drivetrain components, or accessories, Live4Bikes has you covered.

Competitive Prices: Live4Bikes strives to offer its customers competitive prices, ensuring you get the best value for your money. With regular promotions and discounts, you can enjoy significant savings on your Shimano Deore XT BR-M755 brake pad purchase.

Reliable Customer Service: Live4Bikes is committed to providing exceptional customer service. Their knowledgeable and friendly team is readily available to assist you with any inquiries or concerns you may have, ensuring a smooth and hassle-free shopping experience.
Conclusion:
Shimano Deore XT BR-M755 disc brake pads offer unmatched performance, durability, and reliability, making them an excellent choice for cyclists of all levels. When considering your purchase, Live4Bikes emerges as the preferred destination for acquiring these high-quality brake pads. With genuine products, a wide selection, competitive prices, and outstanding customer service, Live4Bikes ensures a seamless buying experience. Invest in the Shimano Deore XT BR-M755 brake pads from Live4Bikes, and elevate your cycling adventures with confidence and peace of mind.